Latest News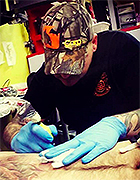 We would like to welcome Cole Gridley to our Darkside Family! Cole recently moved to CT from Massachusetts. He specializes in bold new school color tattoos, but is also very versatile. Come down and book an appointment with Cole, y...
Read More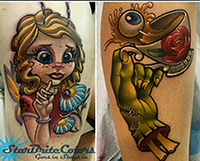 Joe Swider will be guest spotting here at Darkside, this Friday, January 12, and Saturday, January 13. We are looking forward to having Joe here, he's a past employee, and always a member of our Darkside Family. Call the shop to check on J...
Read More
About Us
Darkside has always delivered cutting edge artwork. We have always been blessed with a great team of artists, and are dedicated to keeping up with our reputation.
Sean and Melinda are proud to have Dave Racci, Marissa Falanga, Daniel Adamczyk, and Matt Kiley on the crew. Their artwork speaks for itself. We are all determined to keep Darkside on top.
Darkside Tattoo has proven to be an innovative custom tattoo design studio. We pride ourselves on being able to deliver state of the art tattoos and customer satisfaction. Bring in your own ideas, or we'll work with you to design the tattoo thats just right for you. Check out our extensive portfolios and see what we've done for our customers in the past.
Not many studios have ever acheived the fame and recognition of Darkside Tattoo. In the tattoo world, as well our local community, Darkside has become a household name. We are committed to continuing our legacy, and are blessed with another chance to move forward.
"Never underestimate the power of The Darkside"